- A NOTE FROM LARRY BOND -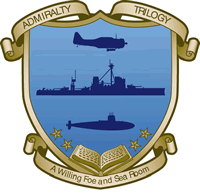 WELCOME ABOARD!
At Historicon 2017 in Fredericksburg, Virginia, we had enough ATG members in one place to do some planning. Here is our publishing schedule for the immediate future:

FG&DN 2nd edition and High Seas Fleet 2nd edition are on the front burner. The rules will be in rough draft by the end of July, and in smooth draft by mid-August. The scenarios are in smooth draft, but new data continues to surface, and we'll be updating three Russian-German scenarios. Nick Jellicoe has sent us his foreword, which we are deeply grateful for. The Annexes are also in smooth, but we're continuing to scrub them.

Once the rules are in smooth, we will use them to create the player's handbook and jumpstart booklets. We will publish all five booklets in September.

As always, Naval SITREP 53 in October.

The files for Dawn of the Rising Sun were very clean, so this legacy project is a conversion/update, as opposed to a new edition. Bill Madison, the author, is polishing the scenario data, which will result in a smooth draft. DoRS, 2nd printing will also include a new Annex book. Bill will also update his DoRS Form 10s product. DoRS will be released in 4Q17.

Arctic Fleets, providing data on the Finnish and Norwegian, Russian, and Netherlands navies and air arms, will be our winter project. It's a lock for Cold Wars' 18. It's the last of the Fleet series (finally!)
After that comes Harpoon 4.2. I'm betting it' s out for the summer convention season.

Check our Facebook page for updates.
Larry Bond